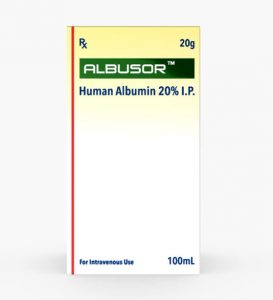 Albusor is developed using technology that involves an integrated end to end chromatography process for plasma proteins.

Our Albumin is coloured green in lieu of the billiverdin pigment bound to the Albumin, which is not removed when using the gentle chromatography method for purification. Since most manufacturers still use the old traditional Cohn's method of purification with harsh ethanol, the Albumin loses its bilirubin pigment, which would have been oxidised to billiverdin, to give the green colouration.

Albusor is formulated from plasma, which is NAT tested and negative for HIV-1, HIV-2, HBV and HCV.

In addition, two more steps are included in the manufacturing process for virus inactivation/removal.

Albusor is prepared using new, patented technology which has been granted three US patents.

As per European pharmacopeia, the specification for colour range of Albumin is from greenish yellow to amber or green. As long as the colour is within the range, the Albumin is acceptable.

The beneficial effect of having bilirubin bound to the Albumin is that it has a stabilising effect. This is explained in detail in a presentation by CSL Bioplasma, Australia (available online). CSL also supplies a chromatographically accurate Albumin (Albumex) that is green in colour. The anti-oxidative effects of bilirubin are in their product information slides.

Albusor is fully complaint with Indian pharmacopeia.